Ann Catley 11 Photographs, Article and Stage Appearances
found sellotaped into her biography...
The Book's Title Page, left and right. Notice the E on Anne, in contrast with the spine which has Ann. Confused?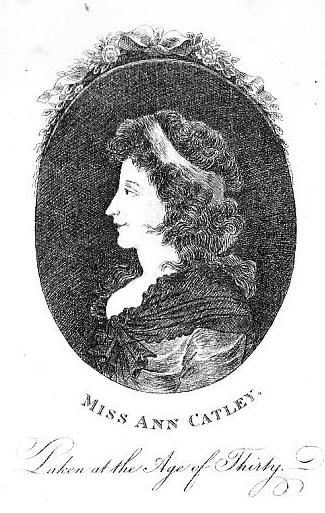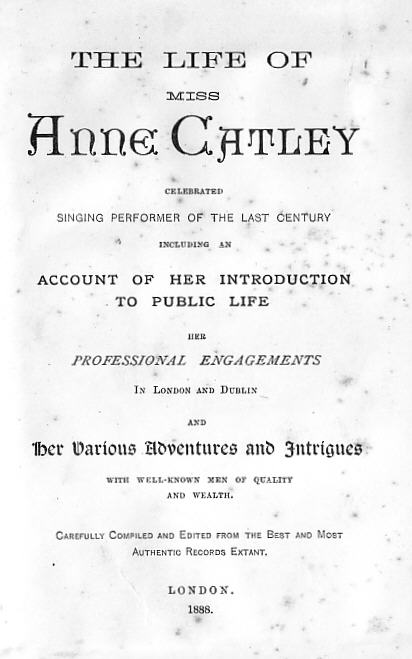 A picture of a mezzotint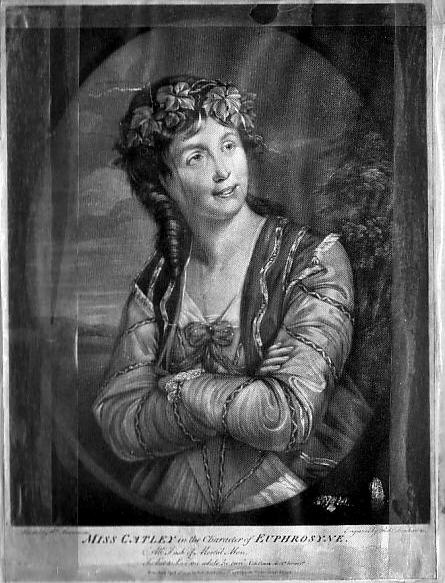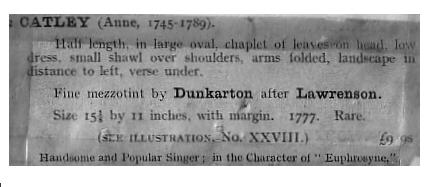 The writing reads
Painted by Lawrenson . . . . . . . . . . Engraved by Dunkarton
MISS CATLEY in the Character of EUPHROSYNE.
All I ask of Mortal Man,
Is but to love me while he can. vide Combs (?) Act 2 scene 1
Published April 15th 1777 by Rob. ... indecipherable !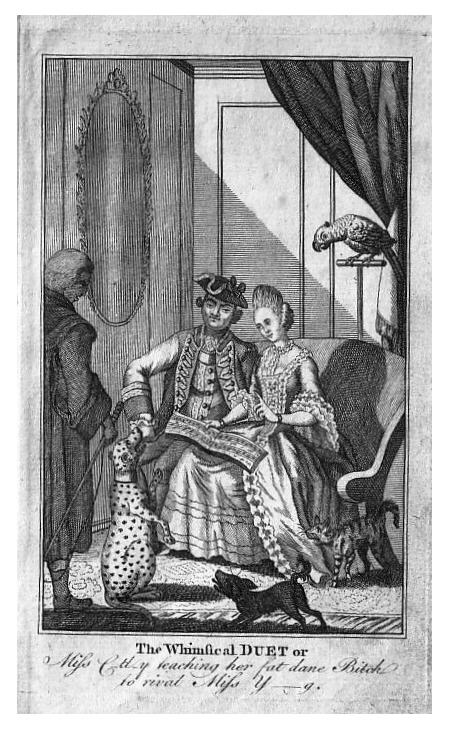 Right reads
The Whimsical DUET or
Miss Catley teaching her fat dane Bitch to rival miss Y____g.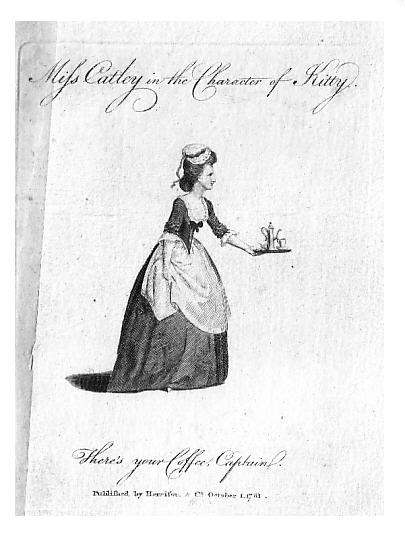 Left reads
There's your coffee, captain?
Published by Harrison
October 1st 1781
Another Two Euphrosyne Images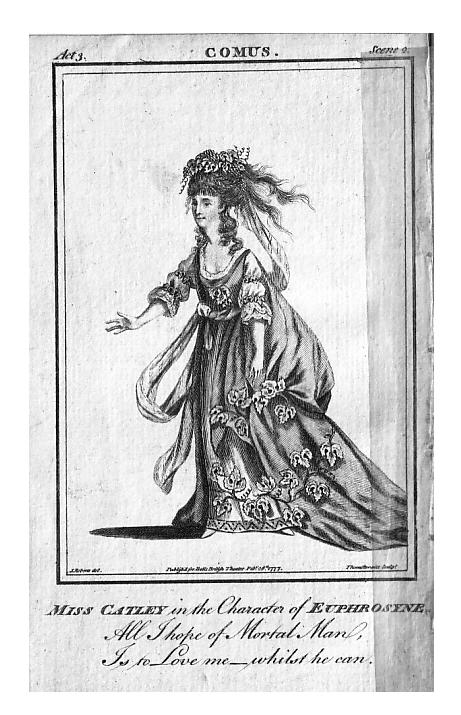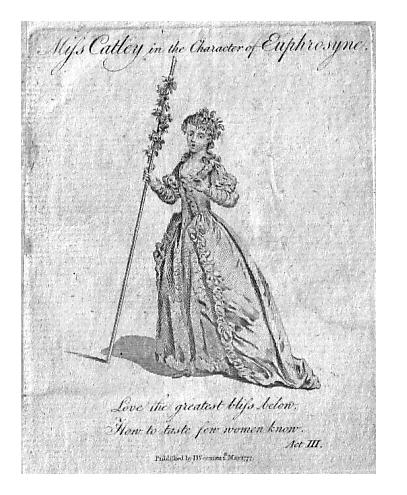 See a picture of Sir Edward Grey by himself, sellotaped into the front cover of the book.
As Rachel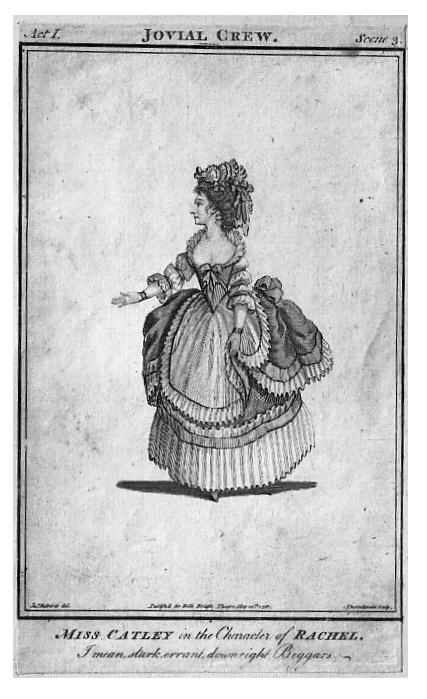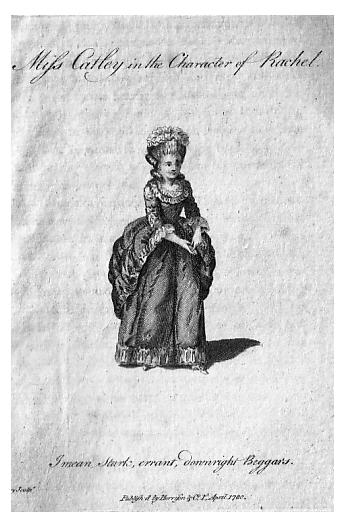 from Town and Country Magazine, Nov 1770, p569-572.
HISTORIES of the Tete-a-Tete annexed : or, Memoirs of Colonel Las__lles and Miss C_tl_y.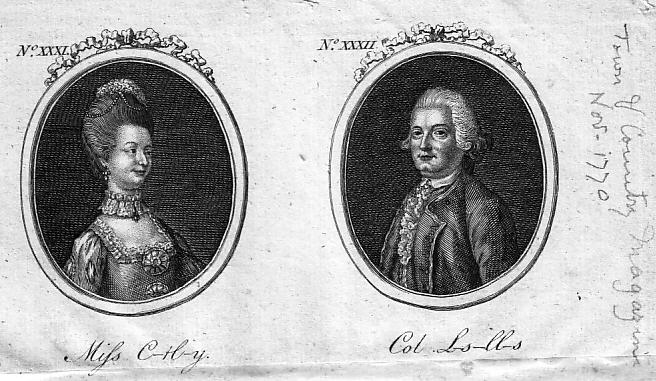 The task we have imposed upon ourselves of furnishing monthly a Tete-a-Tete, is so far from exhausting our materials, that we can with truth declare, we have at this time before us a list that would more than furnish subjects for two years to come. As our great aim is to please our readers, who are, doubtless, in pusuit of novelty, we endeavour to catch the most prevailing toast of the period; and it was for this reason we had chosen Miss C_tl_y for our heroine of last month ; but as our engraver could not possibly execute the portraits in time, in the masterly manner in which they have been constantly offered to the public, rather than that they should, through precipitancy, fall short in their merit, we reserved this history for the present Number.
Colonel Las__lles is a gentleman of an ancient and illustrious family, whose ancestors distinguished themselves upon every occasion in defence of their country, and who appears to possess all the valour and magnanimity of his forefathers. Early in life he obtained a commission in the army, and has gradually risen to the rank he now enjoys. His politeness and good sense have consistently gone hand in hand, to recommend him to the attention and consideration of the first nobility ; and his character in the military is so amiable, that he has secured the friendship of all his brother-officers, and the veneration of the soldiery. Being possessed of a very comely person, and a good constitution, we may reasonably suppose that Mr. Las__lles, in his juvenile days, gave into all the fashionable gaieties of the town. A cornet of dragoons and a philosopher, are characters so incompatible, that it were almost ridiculous to suppose them ever blended : gallantry and dissipation is the motto of a young soldier, and we need not, therefore, be surprised, our hero kept up the dignity of his profession, and was frequently out of credit with his agent, as well as his taylor. Finding his circumstances thus straightened, he applied to the late lord Ligonier, for promotion, at a time there was a vacancy in another corps ; and it was upon this occasion his lordship said that memorable bon mot, which is so well known in the army, but which can only be related here in part : "You're a cornet of dragoons, an't you Sir?" Yes, my lord. "And just twenty?" Yes, my lord. "Why then think yourself very happy, for by G_d, if I were a cornet of dragoons, and twenty years old - I would not change stations with the Grand Signior."
This was, however, but a negative kind of consolation to Mr. Las__lles ; and had not a near relation taken his leave of this world, and left him a handsome legacy, the cornet would not have given his lordship so much credit for his pleasantry. Having touched the bequest, and satisfied his clamorous creditors, Frank began to think the Old Soldier was quite right ; and that a cornet of dragoons was one of the happiest fellows in the world. What induced our hero to be still more inclined to this opinion, was his success at the masquerade in the Hay-market a few nights after, where he won a very considerable sum at the E. O. table , with which he prudently retired ; and had the additional good fortune to make an acquaintance with the celebrated Nancy Day, then in high keeping by lord Edge__be.
Nancy Day, whose face may be seen under a bonnet at every printshop in town, inscribed with the label of lady Fenh__t, was then in her prime ; she was tall, genteel, and elegant in her person, vivacious, and communicative. Frank went down three dances with her, supped, and retired. Here we shall drop the curtain for the present ; but as our readers may be curious to know how she came by her title, and in what situation of life she now moves, the following outline of her character will not be disagreeable.
Nancy was born in Devonshire, near Plymouth, of parents, whose honesty did them more honour than their pedigree. As she had no prospect beyond the rank of servitude, she contented herself with the situation which fortune seemed to have allotted her. But in this she was mistaken : Lord Edge_be had frequently noticed her, in riding by her father's hovel, and felt as frequently a strong penchant for her. When she was about eighteen, he found means to have a conference with her, in which her pride and ambition were so elated, that she eloped from her father, and took up her abode at Mount Edgecombe. His lordship behaved in a generous manner towards her, as well as to her relations, placing her father in a very comfortable farm, and providing for her brothers in the navy. She lived with him till his death, not without making frequent excursions to town, during the sitting of parliament, when we will not pretend to vouch for her fidelity : however, his lordship never entertained any suspicions of her conduct : and having born him two daughters, he left her a very handsmome settlement, and a good fortune to each of the young ladies.
Miss Day now repaired to the Metropolis, where she constantly resided : she had presently many suitors, and among the rest Peter Fenh__t, Esq, then an E_n of the yeomen of the guards. She was advised by many of her friends to accept his hand, as it would place her upon a respecatble footing, and at length with reluctance, she yielded to their intreaties. Soon after their marriage, upon his present majesty's coming to the throne, he was knighted, as eldest E__n, whereby she obtained the title of lady. But this titular distinction, though it might flatter her vanity, did not administer any gratification to some other passions which reigned predominant in her breast ; and a discovery Sir Peter made, brought about a separation. Her ladyship has since taken up her residence at Calais, with her two daughters, where she passes her time very agreeably, and much to her satisfaction, among the French and Irish officers.
How long Mr. Las__lles's intrigue continued with Miss Day, cannot be precisely ascertained : but as she retired with Lord Edge__be into Cornwall, at the expiration of the session of parliament, it did not probably exceed the limits of that period ; and indeed we find him very soon after closely connected with Miss R____h, (now lady Ec____n) a beauty who would never suffer a rival share the least atom of her lover's heart.
This lady was considered as one of the most beautiful and polite demi-reps in the whole republic of gallantry ; and though sir F. B. D. who is said to have been her seducer, did not pay her the regard which she so justly claimed, a train of admirers more than supplied that adulation of which he was deficient. A whimsical circumstance brought her and Mr. Las__lles together : they were both before Sir John F____g at the same time, the lady charging a former lover with having stolen her jewels, the captain accusing a temporary mistress with having purloined his watch. A similarity of situation produced a kind of congeniality of sentiments. Mr Las__lles accompanied Miss Ro__ch home, and they mutually agreed on their way to be more circumspect in their amours.
From this period an alliance took place between captain Las__lles and Miss Ro_ch, which had its basis deeper rooted than lucre on the one hand, or sensual gratification on the other : reciprocal friendship, if not love, was certanly no small ingredient in promoting a correspondence, which did not termnate till he quitted the kingdom.
Some time after the captain's departure, Miss Ro_ch became acquainted with Sir Harry Ec______n. He testifying a passion for her of an honourable kind, she very generously told him, " She believed he was unacquainted with her history ;" and added, " as I would not impose upon you, or chose to be upbraided hereafter with my former conduct, when I have made you acquainted with it, if you still persist in your proposal, I shall willingly acquiesce." She suppressed no part of her memoirs ; the baronet as eagerly pressed her as before, to accept his hand ; and she soon after obtained the title of Lady Ec______n.
Captain Las__lles was, in the year 1768, appointed a lieutenant-colonel of dragoons, and repaired to Ireland to join his regiment. Miss C_tl_y had been in Dublin near three years, having engaged with Mr. Mossop, to perform at his theatre, and where she had met with great applause, particularly as a singer : and being a reigning toast in that city, every man of taste piqued himself upon an acquaintance with the beautiful warbler. Colonel Las__lles soon got introduced to her behind the scenes ; and his politeness, good sense and assiduity, joined to his personal recommendations, distinguished him from the herd of her admirers ; and she almost as speedily testified a partiality in his favour, by condescending to live with him.
Our heroine cannot boast any great ancestry ; we find that her father was neither more nor less than a hackney-coachman, and her mother pursued the laborious vocation of a washerwoman, which probably would have been the lot of her daughter, had not accident thrown her in the way of Mr. B_tes, the organist, who, approving of her voice and figure, agreed to take her as an apprentice. She attained a considerable knowledge of music under his tuition ; and in the year 1763, she made her first public appearance at Marylebone-Gardens, where she was considered as a capital singer, and with Mr. Lowe, revived the gaiety and brilliance of that place.
A female performer no sooner starts upon the town, if she is only tolerably handsome, and has any degree of merit in her profession, than she has a number of professed admirers. It is the ambition of every pretty fellow to aim at being the happy man ; and an artless girl, unacquainted with the wiles of seduction, in such a situation, can only escape by miracle. Miss C_tl_y's talents and beauty were so superior to most contemporaries in her profession, that we need not be surprised to find her particularly distinguished ; and that the number of her inamoratos were in proportion. Among the foremost of her lovers, was Sir Francis B. D. whose taste and eclat in gallantry can scarce be equalled. The knight, who was never known to sue in vain, having resolved to surmount whatever obstacles might impede his success, not only obtained the lady's approbation, but even her master's consent, by purchasing her indentures at a very extravagent price. This negociation being terminated, and Miss C_tl_y having thus broken her shackles, a genteel house was provided for her in the new buildings, and the knight supported her with all the elegance of a woman of fashion.
Their felicity was, however, soon interrupted by her father, who commenced a prosecution against the knight, for seducing his daughter, and against the organist for being an accomplice. The merits of this affair were tried in Westminster-Hall, in 1764 ; and the father was nonsuited, as it appeared the whole transaction was done with the consent and approbation of Miss C_tl_y.
The natural inconstancy of disposition in the knight soon prevailed. As neither a Ro_ch, a L_ssi_ham, a Po_t_er, and a long string of et ceteras, could ever confine his heart to one object, so a C_tl_y was early convinced that the reign of her charms was expired. His behaviour to her was, however, still polite and generous ; nor did he leave her till she had engaged in a treaty with Lord W_____. This connexion was not of long duration, and Mr. Mossop, making her very advantageous proposals to go to Ireland, she accepted of them, and repaired to Dublin.
The scandalous trump of that city ascribes to her many temporary alliances, and one in particular with the manager. It was said by a wag on account of the numbers of her lovers of rank (supposing the B___ops out of the question) that to secure a majority in either house, it was only necessary for C_tl_y to instruct her own members. From this general influence it must necessarily be concluded, she was a great favourite ; and that her salary and benefits were proportioned to the importance of her situation, which was demonstrated by her having for two successive seasons been prinicipally instrumental in the single character of Rosetta, in keeping up a strong opposition to Mr. Barry's company, supported by himself, Macklin, Dexter, Mrs. Dancer, and Mrs. Fitzhenry. The emoluments she reaped in that country, from her different vocations, were, indeed, very considerable ; and she has prudently realised a sum that places her above a state of dependance.
Since her connexion with Colonel Las__lles, (by whom she has two children) the voice of calumny has no longer attempted to sully her conduct ; and it is generally believed that such a sympathy of sentiments prevails between them, as excludes every other competitor from either of their hearts.
Her person is above the middle stature ; though perfectly well made, she is not genteel, there being a carelessness in her gait, that too nearly approaches the hoyden. Her countenance is remarkably pleasing and expressive, and she has a wanton wildness in her eye, that cannot fail to captivate. Her mouth, from whence the most exquisite harmony flows, displays a set of teeth that are unrivalled upon the stage, and adds charms to a face uncommonky beautiful. She cannot be ranked a first-rate actress even in comedy, but her singing brings her upon a level with any performer now existing.
Such is Miss C_tl_y, whose present appearance upon the Covent Garden stage is owing to accident, her journey here from Ireland being entirely for pleasure. She was not engaged till some time after she had been in London, upon Mrs. Pinto's neglecting to article with the managers in time. The acting manager was glad to treat with her upon any terms, and readily agreed to give her fifteen guineas a week ; she having refused to perform a single night for Mr. Du-Bellamy's benefit in the Hay-Market, for thirty guineas. Mr. C____n, however, repented of his bargain, upon the run of Love in a Village, (in which she performed Rosetta) not being so great as he had expected. He accordingly waited upon her, and alledged that he had inconsideratley entered into an engagement which his colleagues would not subscribe to, and hoped that she would consent to the diminution of her salary, as it would be entirely at his expense, especially as Love in a Village no longer brought houses to answer the disbursements. To which Miss C_tl_y replied, "I imagined, Sir, you was sole acting manager, or else your law-suit has been determined to very little puspose ; however, as my engagements were made with you, Sir, I expect you will fulfil them." Saying this, she glided out of the room, singing the last birth-day minuet.
This specimen of her conduct is an index to her disposition and way of thinking, from which we may venture to pronounce her a woman of imagination and spirit.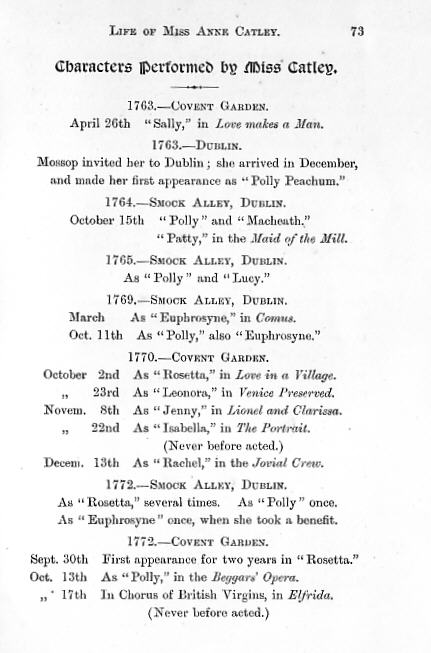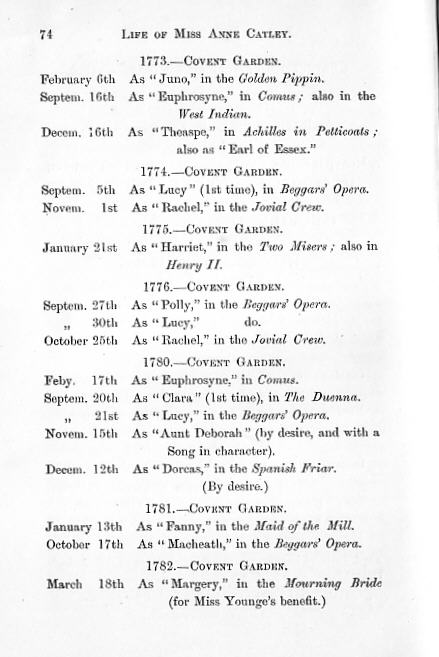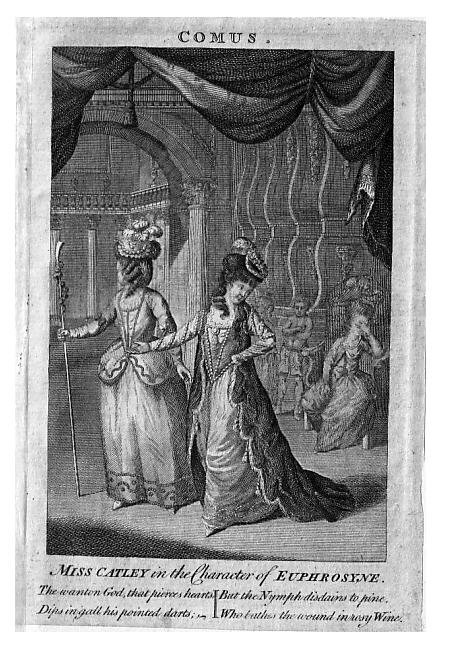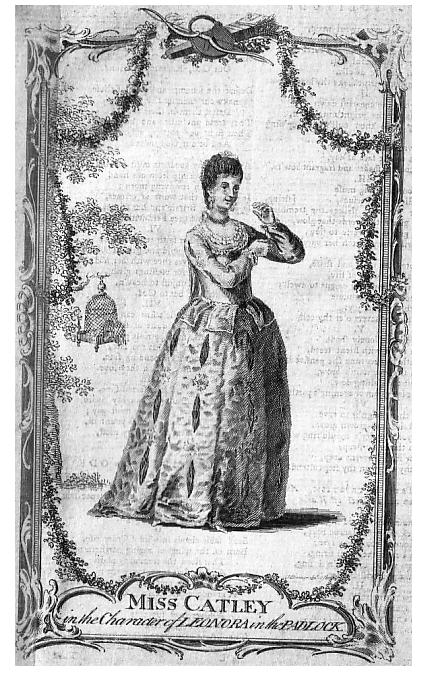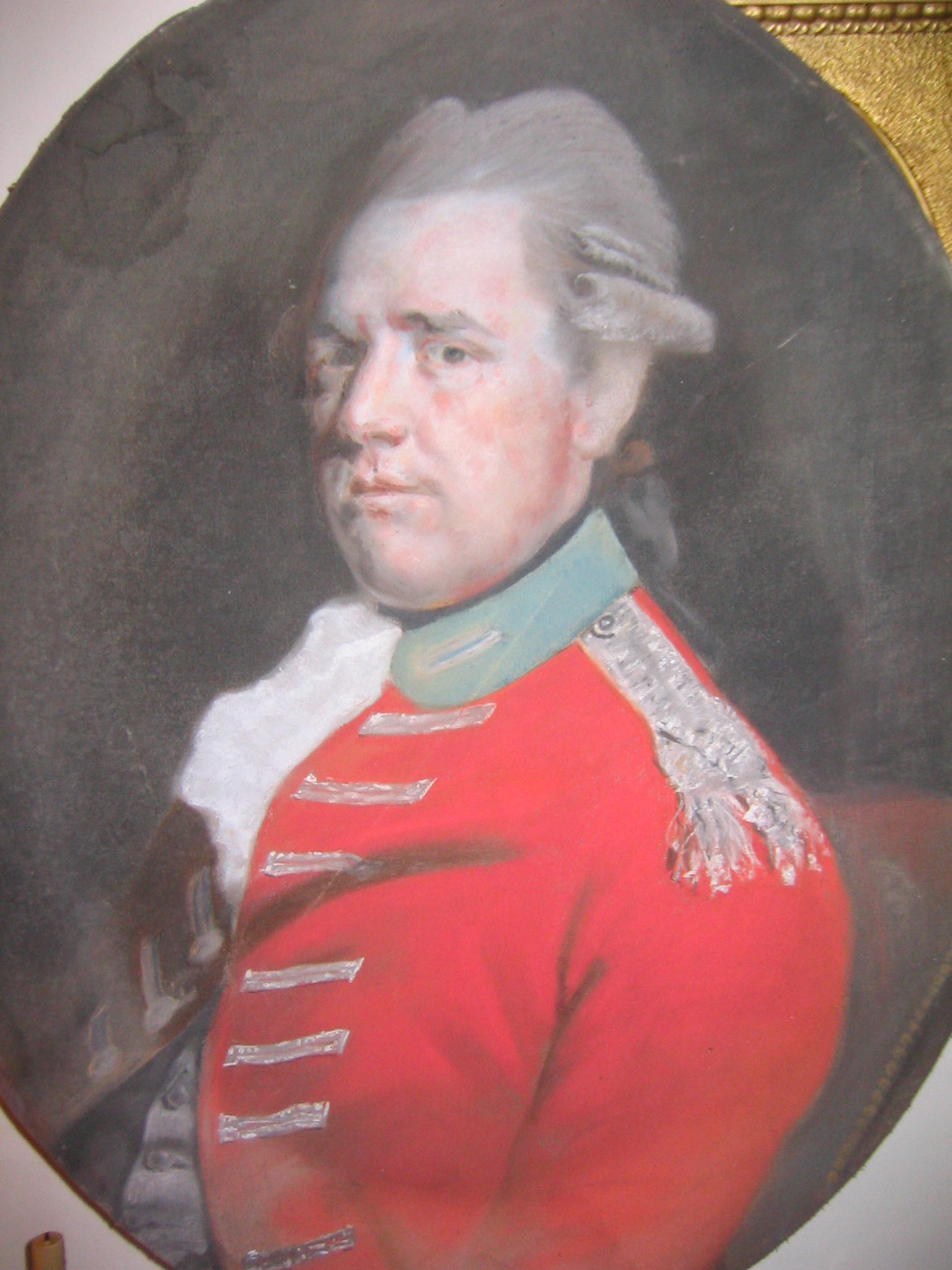 This is a newly discovered portrait of Genreal Lascelles. I wonder what he thought of it all?
PS From The Percy Anecdotes
The late Mrs. General Lascelles, when more celebrated as Miss Catley the singer, was once entreated to contribute to the relief of a widow, whose husband had left her in a very distressed situation. She gave her a guinea, but desired to know the poor woman's address; and in three days called upon her with near fifty pounds, which she had in the interim collected at a masquerade in the character of a Beguine (a begging Nun).
Posted by David Pennant, Woking, Surrey, UK.
Ann's daughter Charlotte Lascelles was my great great great grandmother.